Cloud DVR technology has been around for some time, and many video service operators have already deployed it. Why is there a recent surge of attention on Cloud DVR technologies? To discover what is driving this renewed interest in Cloud DVR, we asked Velocix product specialists Sérgio Delgado and André Bento some questions to get their insights on the topic.
Q&A with:
Sérgio Delgado, Velocix Product Manager - Cloud DVR
André Bento, Velocix Product Manager - Ad-tech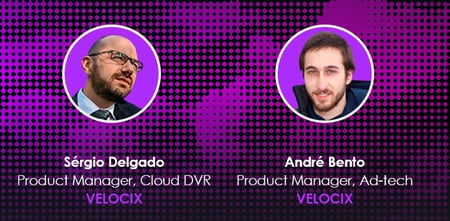 Why are we still talking about Cloud DVR?
Sérgio: It is certainly true that Cloud DVR (CDVR) has been around for some time, but adoption pace has differed from market to market and from operator to operator, so CDVR is still a new area for many operators. Also, as technology has evolved so have perspectives on CDVR solutions, driving more operators to look toward Cloud DVR to unlock new business opportunities and revenue generation possibilities. In addition, as CDVR businesses scale out and become more mature, new challenges and considerations are exposed. In fact, the typical lifecycle of a Cloud DVR deployment is:
Launch and drive adoption
Optimise costs and look for margin improvements
Pursue incremental monetisation opportunities
Many operators are just beginning to enter that third phase. Also, important to note is the Cloud DVR market has been growing solidly over recent years, creating new opportunities for video service providers to boost their revenues. It is projected that Cloud DVR will experience a year-over-year growth rate of 21% during the next few years, with the total market reaching $6.4B by 2024. So, the market is very healthy and continuing to expand, which is another reason we see continued interest in Cloud DVR.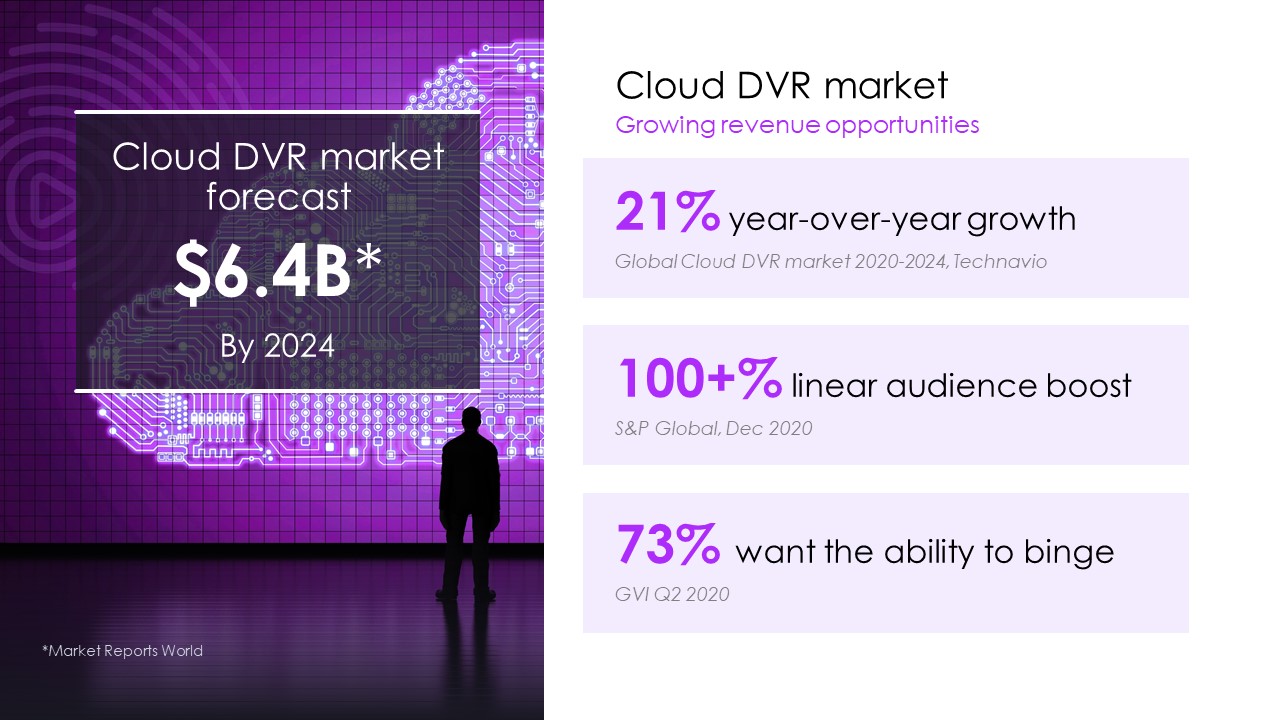 How can video service operators unlock more revenue from Cloud DVR?
Sérgio: I think the key is to view Cloud DVR as a means of personalising TV services to cater to individual preferences, improve stickiness, and reduce churn. For instance, flexible video storage capacity can be offered to suit each users' personal needs, with higher monthly fees for larger storage amounts. Beyond generating incremental revenue, when customers use these larger storage archives, they are less likely to cancel services or pivot to competitive offerings for risk of losing their personal content. It is a win-win for service providers, as they can boost revenues, while simultaneously increasing customer loyalty. A related approach is charging to extend the length of time content is stored, with monthly fees applied to extend storage indefinitely.
Another key technique for revenue generation is multi-device activation. This makes sense as the number of connected video devices per household continues to trend upward, and with 5G just beginning to launch, even more devices will be video capable.
So, do you see a lot of companies doing this, and if not, why not?
Sérgio: I believe many operators still view Cloud DVR as being a direct replacement for in-home DVRs and the truth is that Cloud DVR is much more than that. It's not just about moving the set-top box hard disk to the Network/Cloud. It's about offering each consumer the flexibility to create and customise their own content portal. While cloud DVR technology has evolved beyond a simple DVR set-top replacement solution, it's not easy to change the mindset that Cloud DVR is only interesting if it saves cost. Driving new revenue is really the point of Cloud DVR. In fact, we see many operators that still sell Cloud DVR as a tiered service, meaning they offer a one-size-fits-all solution to consumers. It doesn't have to be this way and we think money is being left on the table by not taking advantage of advanced personalisation features that can drive new Cloud DVR revenues.
The bottom line is that Cloud DVR technology enables you to offer each customer the opportunity to customise their service according to their needs, and for operators this opens up a host of new ways to monetise pay TV viewership.
---
Watch the on-demand webinar:
Introducing Ad-supported Cloud DVR
---
André: I agree. Beyond that, Cloud DVR is also an ideal service for monetisation via addressable (a.k.a. targeted) advertising, because it is, fundamentally, a personalised service. As has been reported in recent analyst reports and industry trade publications, the addressable advertising market is getting a lot of attention, and revenues are growing quickly. This growth has been accentuated even further with stream growth related to the COVID pandemic. The shift in users' viewing patterns is affecting how advertisers spend their ad budgets. For example, in a recent IAB spend report, more than half of buyers indicated that they are shifting ad dollars from broadcast (53%) and cable (52%) to connected TV advertising post-COVID. This means advertisers are rapidly moving their investments from non-addressable environments to addressable IP-based TV environments. We are still in the early days of addressable advertising for Cloud DVR and time-shifted video, however, the potential here is very real and the market opportunity is expected to grow quickly.
Cloud DVR offers operators an opportunity to really supercharge their ad revenues.
What are the key benefits of addressable advertising with respect to Cloud DVR?
André: Cloud DVR offers operators an opportunity to really supercharge their ad revenues. There are two main types of opportunities for addressable advertising within time-shifted content, namely Ad Insertion and Ad Replacement.
Ad Insertion is when new personalised ads are inserted into video streams where there are no ads. The most obvious example of this would be inserting pre-roll ads into Catch-up TV content, personal recordings, or VOD content. Ads can also be inserted mid-roll at set intervals, and this is particularly interesting for time-shifted content that is recorded without ads.
Ad replacement, as the name implies, involves replacing linear ads, which are typically mid-roll, with targeted, personalised ads. This is suitable for catchup, personal recordings, and re-start TV content, and especially for recordings that have aged beyond a certain point. When recordings are old, ads often become stale. For example, an ad for an upcoming sale might no longer be applicable because the sale date occurs in the past. These stale ads can be replaced with new, more relevant ads, which represent new revenue for the operator.
How do you think operators view the ad opportunity for time-shifted content?
André: I think operators are just beginning to recognise the sizeable growth opportunity that exists for ads in time-shifted content. From a U.S. standpoint, most operators have been focused on transitioning from their QAM-based local ad insertion, which is primarily linear.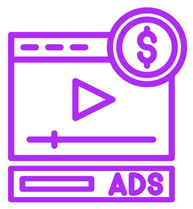 The rights agreements and the sales pipelines have historically been concentrated on linear given the overall size of the market opportunity. As a result, their entry point to Digital Ad Insertion (DAI) is usually addressable linear TV, which is actually the most complex to implement.
In Europe, most of the rights conversations for addressable ads are just starting now. While there are some examples of operators successfully deploying Cloud DVR monetisation pipelines in the UK, France, Spain, and Portugal, there's still a lot of room for growth. Ultimately, we think there is still a lot of potential out there to drive new revenues for operators and broadcasters in the Addressable TV advertising space.
What advice would you offer operators that haven't prioritised addressable advertising?
André: I would recommend starting with pre-roll ad insertion on catchup TV or VOD content, and choosing a cloud-based, fully-managed, server-side ad insertion platform like Velocix's Personalisation Platform (VPP). Because it is a turn-key pay-as-you-go solution, operators can get up and running quickly and the system pays for itself. Once the system is launched and starts generating revenues, they will have a great foundation on which to implement more complex workflows like catchup TV ad replacement, or even linear ad replacement, which require SCTE-35 signalling and involve tougher rights conversations.
Turning back to time-shifted video, what is the future of Cloud DVR?
Sérgio: Exceptionally flexible, multi-cloud capable, smartly efficient, highly personalised, and creatively monetised. As mentioned above, targeted advertising and personalisation are key monetisation areas that will be explored further by operators in the coming years. Cloud DVR will also have to keep up with technology evolution, new protocols, formats, and standards that will surely come, but I believe that time-shifted content will keep getting more and more attention as operators look for new ways to differentiate their pay TV services.
Are there any other things people should think about when considering Cloud DVR?
Sérgio: If you are just starting to look at Cloud DVR or considering ways to upgrade an existing deployment, it is worth looking at new "as-a-service" options for Cloud DVR. Velocix, for example, recently launched a new SaaS platform called Cloud VRM that enables operators to upgrade quickly and easily to a more modern and flexible, cloud-based video recording architecture.
Cloud VRM is multi-tenant, so operators can launch Cloud DVR services across multiple geographies and save money by using shared cloud infrastructure. Pay-as-you-go pricing reduces start-up costs and ensures that any costs are offset by healthy revenue growth. SaaS solutions are increasingly favoured by operators because they can lower the Total Cost of Ownership by simplifying the architecture, reducing infrastructure requirements, and minimising maintenance costs. Operational simplicity is also a key advantage because Cloud DVR experts on Velocix's managed services team operate the software and the underlying infrastructure on behalf of customers, freeing up resources on the operator side to focus on other tasks.
Do you have any other advice for people interested in Cloud DVR technology?
Sérgio: We encourage people to reach out if they have any questions about Cloud DVR and monetisation techniques. We are always excited to hear from operators and discuss the unique challenges they are facing, as well as the opportunities they are pursuing. While we consider ourselves experts in this space, we are always learning new things and we love to explore new ideas. We think there is a great opportunity ahead for operators to drive new revenue with cloud DVR and addressable advertising, and we look forward to working collaboratively with them to help grow their businesses.
Click for more related content
Webinar: Introducing Ad-supported Cloud DVR
Webinar: Generating higher revenues from Cloud DVR
News: Velocix expands SaaS portfolio with cloud-native recording manager
Blog: 5 reasons to use Managed Services for your video project
Case Study: How Managed Services experts safeguarded video streaming during COVID-19