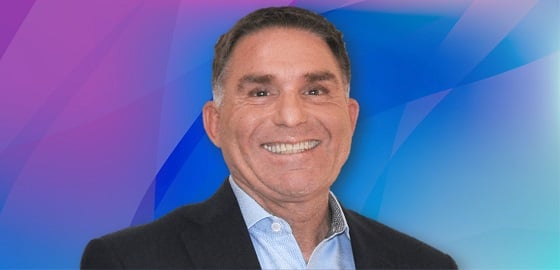 Craig Sinasac provides insight about Velocix's product direction and some of the critical issues operators face as they scale-out their video delivery.
Q: How is Velocix enabling operators to tackle the big content delivery challenges in the industry?
A: We're focusing on several core issues that are being faced by operators at the moment, which are linked to lowering content delivery costs, improving the video experience for viewers, and strengthening the resilience of content delivery systems. Additionally, we are also very engaged in boosting monetisation opportunities across multi-screen video with the deployment of programmatic advertising technology.
Q: How are you tackling cost reduction for operators?
A: One of our key developments has been hybrid cloud CDN architectures, which allow operators to lower the costs of delivering major live events with more efficient handling of traffic bursts during audience peaks. With a hybrid configuration, an operator's on-network CDN capacity provides the stability and performance required to support their regular traffic demands. This is supported by cloud-enabled CDN edges which deliver overspill capacity when it's required during periods of heavy demand.
With the ability to add capacity on-demand, operators can more easily support live event traffic spikes, while reducing dedicated infrastructure investments. Additionally, operators can be confident that they can provide the highest quality of service to all their customers, especially during high profile live events.
Q: Are there other benefits to hybrid cloud architectures?
A: In addition to saving costs, hybrid cloud technology can also be ideal for accelerating project deployment timetables. For instance, it can help operators work around the physical and logistical constraints that often emerge during periods of rapid system expansion.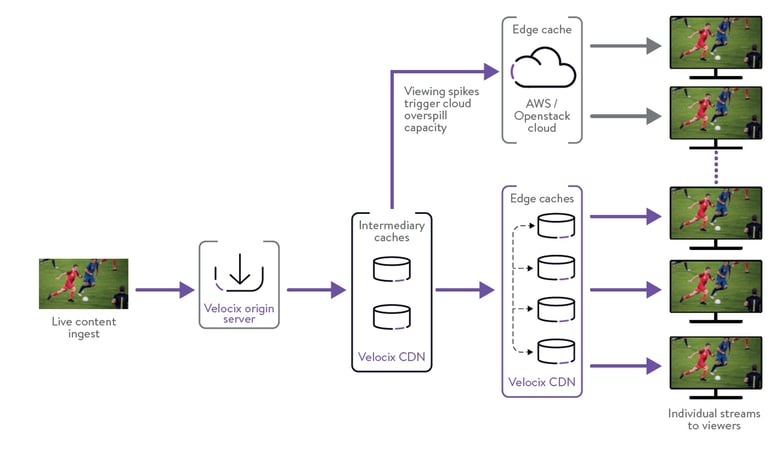 A

hybrid

cloud architecture can deliver optimal live event streaming and VOD cost efficiency, with an on-net CDN supplemented

with cloud based capacity during peak traffic periods
Q: What are you doing to improve the viewing experience for subscribers?
A: An important technology development has been ultra-low latency which can improve the streaming of live sports. This can offer a viewing experience that is much closer to broadcast TV, which has a typical latency of about 5 seconds. This is critical as the worlds of sports and social media converge around delivering a compelling fan experience in close to real-time.
Velocix has been implementing support for ULL-CMAF, which is a common container standard which allows one video asset to support every consumer device. This standard uses shorter duration video 'chunks' (partial video segments), and these smaller video elements can be encoded, processed and relayed downstream before the full segment is processed, thereby minimising the latency.
Q: So, what latency reduction can be achieved with ULL-CMAF?
A: When ULL-CMAF support is combined with performance optimisations throughout the content delivery chain, the latency for OTT delivered content can be reduced to around 5 seconds or better, eliminating a proven source of subscriber frustration.
Q: How are you contributing to more resilient streaming?
A: For major carriers, it's critical that their streaming service is rock-solid and utterly dependable. To provide a carrier-grade viewing experience to subscribers on a 365/24/7 basis, Velocix has recently introduced advanced geo-redundancy for the origin and storage infrastructure. This ensures that subscriber viewing is not affected by a catastrophic network failure or power outage.
If part of a geo-redundant origin cluster is affected by a failure, the CDN will be able to pull the segment from the other origin cluster, right from the point where the first cluster went down. This is a totally seamless recovery operation that doesn't impact the subscriber's viewing experience at all.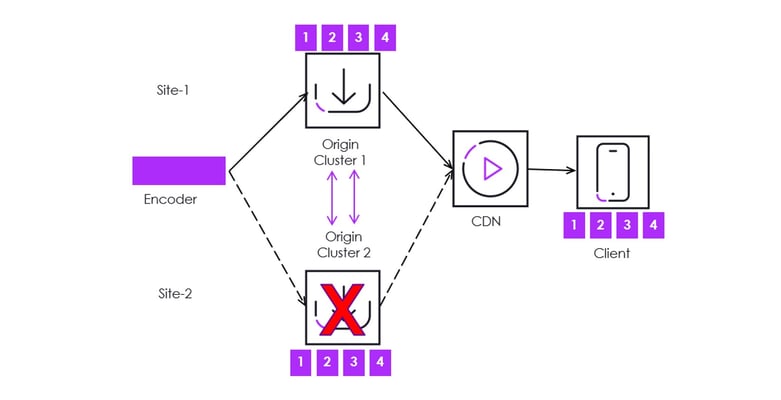 With Velocix's geo-redundant origin architecture, a failure of one origin cluster will not impact the streaming to subscribers
Q: Can geo-redundant origin clusters also overcome any issues with missing segments?
A: Yes, our geo-redundancy also addresses the problem of missing segments in the content of one origin cluster, for example due to a network glitch. In this case, the CDN will immediately attempt to acquire the missing segment from the other cluster so that it can fill the gap flawlessly for the end client.
Q: So, how are you strengthening monetisation for operators?
A: Right now, there is a big push towards improving operator revenues by strengthening advertising performance using highly targeted commercials. The most sophisticated approach is programmatic video advertising, which automates the selling, placement and measurement of video adverts in individual live streams and VOD content.
Velocix has fully integrated programmatic advertising capabilities with its content delivery edge infrastructure to support addressable advertising across all connected devices. By using open interfaces and communications protocols, including the latest ones implemented by the programmatic sector, our VPP solution acts as an integration point to multiple ad decision servers. This allows ads to be highly targeted, based on demographic, geographic, subscription and other data.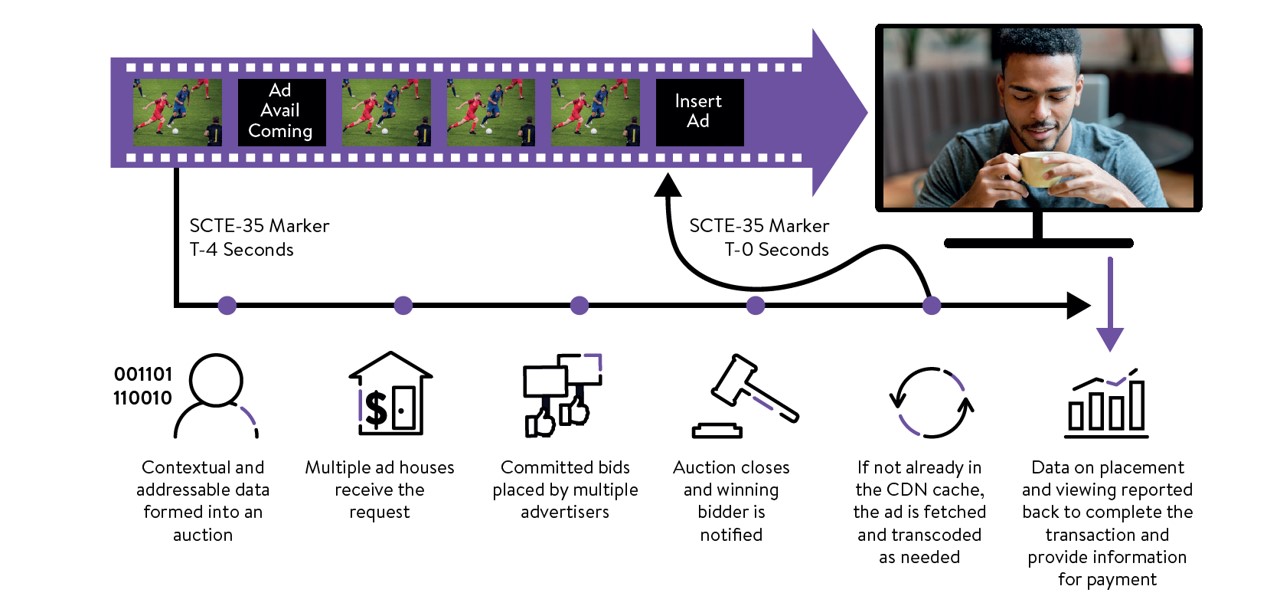 Simplified workflow of programmatic, personalised advertising using Velocix VPP platform
Q: Does your programmatic video advertising solution operate with the typical transaction based commercial model?
A: Importantly, our solution maximises monetisation with an operator-friendly commercial model, which eliminates expensive transaction fees. Over time, this approach can yield dramatic savings compared to other programmatic models which are transaction fee-based.
Q: What else is important to know about Velocix's technology?
A: Well, our deep experience of working with major carriers on streaming applications is just as important as our new technology. We understand the complexities of introducing content delivery systems at large scale when robustness is paramount. It's this insight that makes a real difference to the successful deployment of our streaming and advertising solutions.